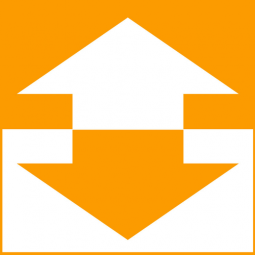 Liquid Level Switch
Typ: NWS
The KOBOLD liquid level switch NWS is designed as a 2 and 3-wire switch and can be universally used in vessels and pipelines. The NWS operates on the tuning fork principle in air at resonance frequency. A piezoelectric crystal is used for excitation of oscillations and for monitoring the actual oscillation frequency.
When the fork is immersed in liquid, the frequency changes: this change is detected electronically and the output signal is changed. The NWS operates as a 2-wire switch in series with the load. The simple electronic switch is operated by the liquid. The NWS can also be connected to a PLC through a third terminal.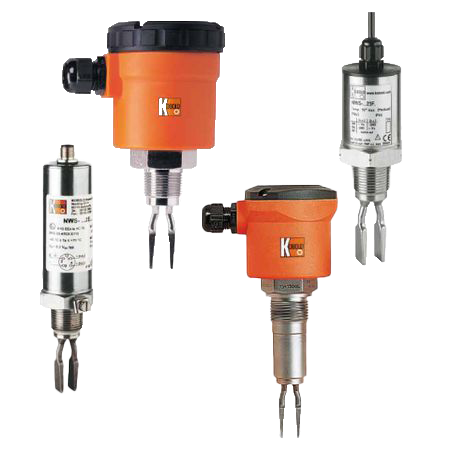 Applications
Oils and foamed olis
Water
Paints and transparent inks
Sauces
Milk
Liquids containing carbon dioxide
The KOBOLD NWS is ideal for hygienic and sterile applications and for CIP cycles up to 150 °C.
Technical data
Material
Fork: stainless steel 1.4404
Process connection: stainless steel 1.4404
Electronic housing:
NWS-… 200: PAG, glass-fibre- reinforced cover with window, 330° rotatable
all other types: stainless steel 1.4301
Process connections:
pipe thread DIN EN 10226-1
NPT-thread
Tri-Clamp®
pipe connection DIN 11851 (sanitary connection)
aseptic-connection DIN 11864
DRD flange
Flange B 25 PN 40 DIN 2527
Flange B 50 PN 40 DIN 2527
Flange ANSI B 16,5 – 1″, 300 lbs
Flange ANSI B 16,5 – 2″, 300 lbs
Ingress protection:
plastic housing: IP 65 (NWS-… 200)
stainless steel housing

plug connection: IP 67
cable connection: IP 68
Max. Max. operating pressure: 45 bar flange connection: see pressure steps
Max. Temperature of medium:
-20 … 130 °C (NWS-… 200…)
-20 … 90 °C (or all other NWS)
short-time 150 °C for CIP (valid for all models NWS)
Min. medium density: 800 g/l
Ambient temperature: -20 °C … +70 °C
Min. immersion depth for switch points: 12 mm (marker on fork)
Power supply:
NWS-… 200..:

.. 240 V DC/AC (50/60 Hz)
2-wire; 24 V DC, 3-wire

NWS-… 23/24:
NWS-… 2E … (ATEX): Isolation Switching Amplifier to IEC 60947-5-6 (Namur) necessary
Delay:
1 s wet /dry
1 s dry / wet
Viscosity: 5000 mm2/s max. at 25 °C (influence on the response time)
Hysteresis: 4 mm vertical, 1 mm horizontal
Repeatability: ± 1 mm
ATEX / IECEx-version
Type of protection: intrinsically safe ia
Designation:

Ex II 1G Exia IIC T6 Ga
IECEx Exia IIC T6 Ga

To use in connection with intrinsically safe Isolation Switching Amplifier according to IEC 60947-5-6