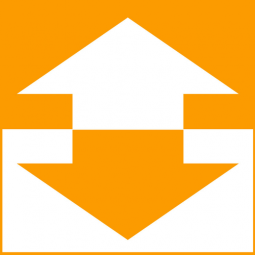 Guided Radar Level Transmitter
Typ: NGM
NGM uses TDR (Time Domain Reflectometry) technology, which is also known as Guide Microwave or Guided Wave Radar. This means that low-energy and high-frequency electromagnetic impulses, generated by the sensor's circuitry, are propagated along the probe which is immersed in the liquid or solid to be measured. When these impulses hit the surface of the media, part of the impulse energy is reflected back up the probe to the circuitry which then calculates the level from the time difference between the impulses sent and the impulses reflected. The sensor can output the analysed level as 4 … 20 mA analogue output, or it can convert the values into freely programmable switching output signal.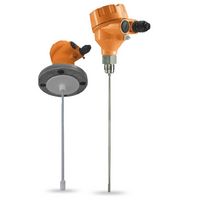 Applications
The innovative TDR technology enables direct, precise and highly reliable continuous level measurement as well as point level detection in almost every liquid and light solids – independent of changing process conditions (such as density, conductivity, temperature, pressure or air humidity).
The units can be mounted in small tanks, tall and narrow nozzles and it measures precisely even with difficult tank geometries or close to interfering structures
.
NGM is also especially suitable in bypass chambers and stilling wells. It has an exceptional performance in media with low dielectric constant (i.e. low reflectivity) such as oils and hydrocarbons.
Technical data
Measuring principle: Guided Wave Radar
Mounting position: vertical
Ambient temperature: -25 … +80 °C
Storage temperature: -40 … +85 °C
Max. Max. pressure: -1… + 40 bar (except NGM-19:0 … 4 bar)
Accuracy*: ± 3 mm or 0.03 % of measured distance, whichever is greater
Repeatability*: < 2 mm
Resolution*: < 1 mm
*Reference condition: εr = 80, Water, tank ø1 m, DN 200 metal flange
Velocity of level change: <1000 mm/s
Medium conductivity: No restrictions
Medium density: No restrictions
Process connection: Thread or flange, see ordering code
Material
Housing:

Aluminium alloy, epoxy coated, with safety chain and tin plated 1.4301/SS304 external earth screw
Option: Stainless steel 1.4401/ SS316

O-ring:

NGM Rod/Rope: None
NGM Coaxial: FKM or EPDM
NGM high temperature: NBR or FKM
Electrical data
Supply voltage: 12 … 30 VDC (reverse-polarity protected < 50 mA), 4-wire system
Output: 4 … 20 mA (programmable by HART® modem)
Total load: < < 500 Ω: HART® resistor approx. 250 Ω + load resistance approx. 250 Ω
Response time: 0.5 s [default], 2 s, 5 s (selectable)
Temperature drift: < 0.2 mm/K change in ambient temperature
Switching output
DC PNP (active): NC [Standard] or NO (short-circuit protected)

Load current: < 200 mA
Signal voltage HIGH: Supply voltage – 2 V
Signal voltage LOW: 0 V…1 V
Response time: < 100 ms
Current consumption: < 50 mA at 24 VDC (no burden)
Start-up time: < 6 s
Cable terminals: Clamp terminal block for cable 0.5…2 mm²
Cable entry: 2 x M 20 x 1.5
Ingress protection: IP 68
Rod probe
Wire rope
Coax
Probe diameter
6 mm
4 mm
17,2 mm
Max. Max. load
Lateral: 6 Nm =
0.2 kg at 3 m
Tensile: 5 kN
Lateral: 100 Nm = 1.67 kg at 6 m
Probe length L
100 … 3 000 mm
1000 … 20 000 mm
100 … 6000 mm (standard)
100 … 1000 mm (high temperature)
Dielectric Constant (εr)
> 1,8
> 1,8
> 1,4
Viscosity (cP)

< 5000
< 5000
< 500
Medium temperature
standard version

– 40… +150 °C (without PTFE)
-15…+100 °C (PTFE lining)
– 40 … +150 °C
– 40 … +130 °C (EPDM O-ring)
-15 … +150 °C (FKM O-ring)

High temperature
version
– 200… + 250 °C (NBR O-ring)
Not available
-200… +250 °C (NBR O-ring)
-150… +250 °C (FKM O-ring)
Materials exposed
to tank atmosphere


1.4571/316 Ti, PEEK(standard version)

PTFE, O-Ring (see order code), (PTFE lining)

1.4571/316 Ti, PEEK, PTFE, O-Ring (see order code), (high temperature version)
In all cases, in addition, a Klinger SIL ® C-4400 gasket at connec- tion thread, 2 mm thick

1.4404/316 L, PEEK, O-Ring (see order code), (standard version)
1.4404/316 L, PEEK, PTFE, O-Ring (see order code), (high temperature version)
In addition, a Klinger SIL® C-4400 gasket at connection thread, 2 mm thick
1.4404 / 316 L
1.4401/316, PEEK. Klinger SIL® C-4400 gasket at connection thread, 2 mm thick
ATEX approval
CE 0158 SEV 13 ATEX 0108 X
II 1/2G Ex ia/db IIC T6 Ga/Gb
II 1/2D Ex ia/tb IIIC T86 °C IP68 Da/Db
II 2G Ex ia db IIC T6 Gb
II 2D Ex ia tb IIIC T86 °C IP68 Db